Saturno Silver Animals
Saturno Sterling Silver Animals are designed and superbly hand crafted in Badia al Pino in Tuscany.
Despite their tiny size, they have an exquisite level of detail and workmanship that gives them a feeling of true quality. Their animal subjects are sometimes humorously depicted, but always beautifully executed. As a result, they make great gifts for Christmas – or any special occasion.
Read more >>
Saturno Silver animals are painstakingly crafted. After being dye-cast in sterling silver, each piece is hand polished to a high lustre. Multiple layers of vitreous enamel are skilfully applied by hand, then repeatedly glazed and fired at high temperatures to achieve the perfect colourflow. It's this complex enamelling that gives each animal its unique finish.
As a final touch, every animal is given a layer of lacquer, which prevents tarnishing and removes the need for cleaning.
Each Saturno piece comes with a UK hallmark that indicates the manufacturer, the quality of the silver (925 sterling), the assay office (the anchor for Birmingham), the fineness mark (the lion) and the year the silver was assayed (in the example below V for 2020). Because of the size of the pieces the hallmarks can be extremely small!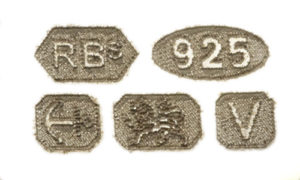 These delightful figurines and miniatures make wonderful presents and are highly collectable.
*
Championing the best of handcrafted goods
Fully insured worldwide shipping
Official Moorcroft retailer for over 35 years