Product Brand
Herend Porcelain
Herend Porcelain
Herend Porcelain embodies 200 years of knowledge and experience of porcelain manufacturing. Each of their exquisite hand-made animal figurines is meticulously hand painted with Herend's distinctive 'Fishnet' decoration in a range of colours.
We have one of the largest online selections of Herend in the UK, and are unique in photographing our stock.
Most of our Herend pieces are available for next day, free delivery.
If we don't have the piece you're looking for in stock, we can supply any item from Herend's current catalogue, in any available colour, in 6-8 weeks.
Read more >>
From the heart of the Austro-Hungarian empire, Herend created sublime wares for the crowned heads of Europe. Today, its meticulously hand-made, exquisitely hand-painted porcelain figures are still produced using labour-intensive traditional techniques – with stunning results.
Herend's celebrated 'Fishnet' design was inspired by a fishscale design one of their designers saw on a Chinese porcelain plate in 1858. He painted the pattern onto a cockerel figurine to imitate its feathers – and the rest is history.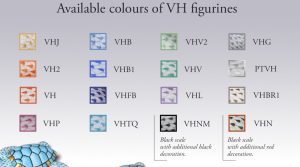 Championing the best of handcrafted goods
Fully insured worldwide shipping
Official Moorcroft retailer for over 35 years